Emergency blue lights are installed around campus to get you an immediate police officer response if you are in an emergency or feel concerned for your personal safety.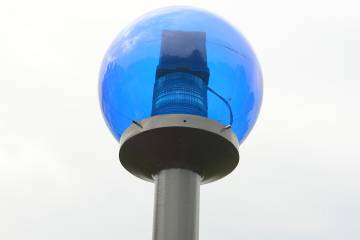 How Blue Lights Work
A press of the button sounds an alarm, activates a flashing blue light, identifies your location, and links you directly to our communication center. Blue light locations are listed below. In areas with brick pathways, look for the light poles with blue globes on top.
Blue Light Location Map
There are 117 campus emergency blue light telephones conspicuously located on or adjacent to campus. We encourage you to become familiar with the locations.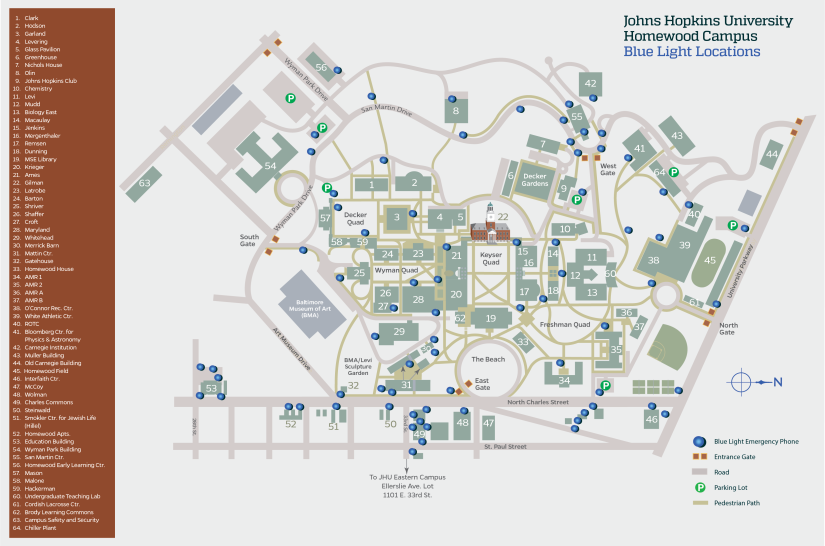 Blue Light Location List
Clark Hall, rear, near steps to Early Learning Center
Garland Hall, north
Levering Hall, east
Olin Hall, front entrance
Olin Hall, rear door
Chemistry Building, east entrance
Behind Chemistry Building, path to Bloomberg Center
Path between Dunning & Remsen halls
Path between MSE Library & Remsen Hall
Krieger Hall, east breezeway
Shriver Hall, rear
Croft Hall, north entrance
Maryland Hall, Wyman Quad, northwest corner
Charles Street, south path to Mattin Center
Merrick Barn, north side
Mattin Center, Offit Building/west breezeway
Mattin Center, Jones Building/east breezeway
Homewood House, parking lot
AMR II Building, west side
AMR I Building, front
O'Connor Rec. Center, south of entrance
White Athletic Center, west entrance
ROTC Building, northwest side
Bloomberg Center, West Gate path
Bloomberg Center, southwest path
Carnegie Institution, entrance, on the wall
Homewood Field, parking lot west of entrance
Bunting Interfaith Center, on University Parkway
Bunting Interfaith Center, Charles Street entrance
Southwest corner of Charles Street & University Parkway
Charles Commons loading dock, on the wall
Charles & 33rd streets, northwest corner
Barnes & Noble book store, 3300 St. Paul St.
Johns Hopkins Federal Credit Union, East 33rd St.
3300 Lovegrove Alley, on the wall
Charles Street Market, 3400 Charles St., front entrance
Bradford Apts., front
3505 Charles St., front
3505 Charles St. rear of carriage house
3505 Charles St., rear alley
3506 Greenway, front
Steinwald Alumni House, 3211 Charles St.
Smokler Center, 3109 Charles St.
Homewood Apts., 3000 Charles St.
Homewood Apts. ATM
Education Building, 28th St. parking lot entrance
Education Building, 28th St. parking lot (center)
Education Building, Charles Street entrance
Dell House, 29th Street & Charles Street
28th Street & Charles Street
Art Museum Drive & Charles Street
Wyman Park Building, front entrance
Wyman Park Building, rear driveway, north parking lot
San Martin Garage, multiple lights inside
San Martin Garage, elevator to bridge
San Martin Drive, crosswalk
San Martin Center, northeast entrance
San Martin Center, bridge, east/south
San Martin Center, bridge, middle
San Martin Center, bridge, west/south
San Martin Garage, rear entrance
San Martin foot bridge, west of San Martin Drive
Homewood Early Learning Center
East Path to Early Learning Center
South Garage, multiple lights inside
Mason Hall, circular drive
Hackerman Hall, front of west breezeway
West Garage, multiple lights inside
East Gate entrance, south side
North Gate entrance
Decker Quad, southwest corner
Chiller Plant, south side path