Several emergency notification systems are available to alert the Johns Hopkins community of any situation, natural or man-made, that might pose an imminent threat to safety.
RAVE Emergency Alert Text Message System
The RAVE Emergency Text Message System immediately broadcasts emergency information to subscribers. The system is available only to Johns Hopkins students, faculty, and staff. If there is a significant incident that presents imminent danger, a short text message will be sent to the cellphone of each subscriber.
LiveSafe App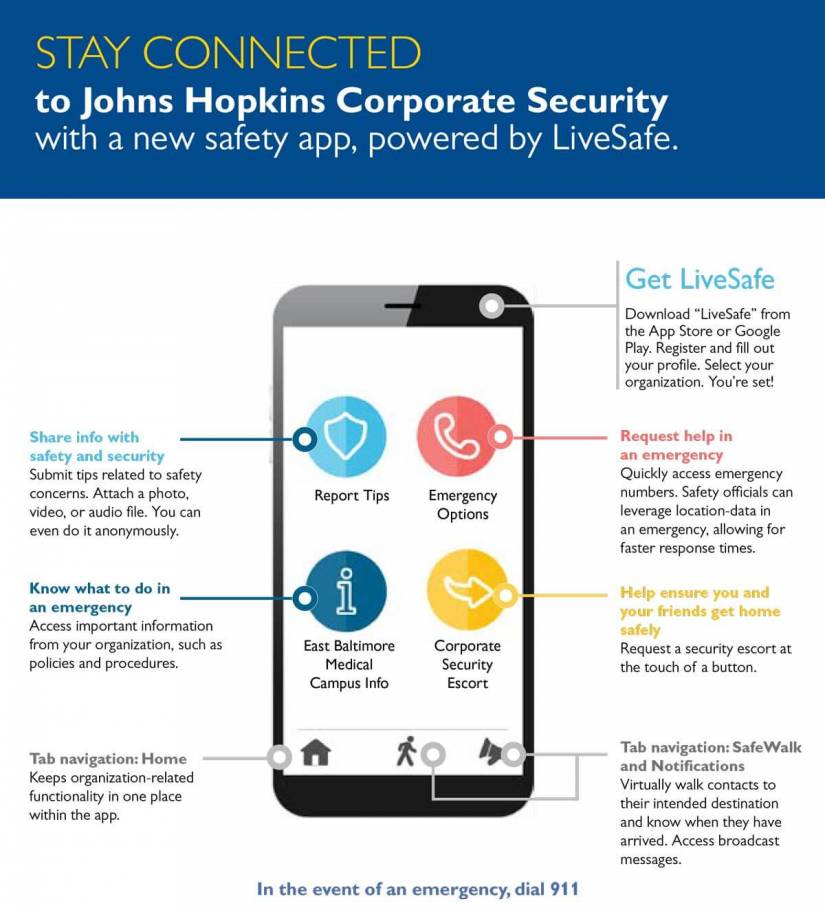 As another security tool to keep our campuses safe, we are offering a free mobile app, powered by LiveSafe, which with the press of a button can provide real-time, two-way communication 24/7 between our Department of Corporate Security and members of the Johns Hopkins community when they are on campus.
To use the app:
Download LiveSafe from the iTunes App Store or Google Play
Register and fill out your profile.
Select your organization as Johns Hopkins, then select your campus location and affiliation.
With this app, you can:
Report a safety concern or suspicious activity, or request assistance from our Corporate Security by phone or text message. Officers will monitor the calls and messages, and can conduct a two-way chat. You can upload an image, video or audio file.
Access resources, such as a security walking escort, campus maps, and corporate security's emergency phone numbers and procedures.
Use GPS in the virtual buddy system to help make sure you, your friends and colleagues safely reach a destination.
As always, if there is an emergency, you should immediately dial 911.
Homewood Campus Safety Mailing List
Security Alerts are used by Campus Safety & Security to notify the campus community of certain crimes in a manner that is timely and will aid in the prevention of similar crimes.
Click below to subscribe to Homewood Campus Security Alerts, which are open to the public. The email address you provide must be the same as the one from which you originally requested a subscription to the mailing list. You will be automatically subscribed when the email is received. No additional text is necessary for the body of the email. Simply click the link and hit send.
Summaries of Major Crime Incidents
In the event that a situation or form of criminal activity becomes an ongoing risk to our community, Campus Safety and Security will issue a Public Safety Advisory containing detailed information and prevention suggestions.